thank fuck for commerce and big cartel..
unless we go snow patrol, theres no way we're going to be able to pay our way on mere music alone. so, praise be, we finally have our own worldwide internet online virtual merch store.
actually, gareth did it all and i'm in charge of boasting about it.
like this::
LOOK! CLICK ON THAT PAGE BELOW AND BUY OUR NEW T-SHIRT DESIGNS!

we hope you do like them and purchase them. so do all the people we owe money to. ooops! we'd like to institute some kind of extra box where you specified whether we were to spend the money you pay us on household bills, backdated council tax, or a decent curry. but thats just silly.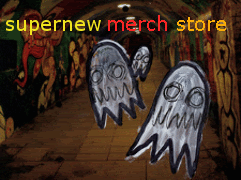 because we love detail and backstory and that, know this::
we're running this store out of my bedroom. i'm worried i'm going to accidently post one of my shirts instead. plz tell me if i do.
if it says we don't ship to yr country, thats just because we havnt programmed in the postage costs yet. so, either mail us here or
johnnyforeigner@hotmail.co.uk
and we'll go down the post office and ask the smelly old woman about it.
YOU SHALL ALL WEAR

OUR BEAUTIFUL ARMOUR





thx xlex